This is YOUR lucky day! In honor of tradition for the 100th post, you get to learn 100 things about me that you may not want to know!
1. I was born in Rushville, IL in 1954.
2. Once we lived in a small town called Industry. It was so small it was referred to as "Pinhook". However, I have lived in towns even smaller than that.
3. I originally was going to name my oldest son Travis. A couple of weeks before he was born I suddenly changed it to Lonny. I could never figure out where that came from or why I felt the need to change it. To make life more interesting for him I spelled it with a "y' instead of "ie".
4. I am a natural brunette....real black actually. I should say I "was" a brunette. Now my natural color is gray with a little black. Which is why I'm a blonde!
5. I can't handle being in the heat. My head starts to throb, my face turns red and I get sick to my stomach. Needless to say when it starts getting 82+ I am inside, in the air conditioning. It's so frustrating too because I enjoy mowing and working outside.
6. I am married to the love of my life. The "love of my life" I always wanted, but didn't find until 13-1/2 years ago.
7. I realize I may not know 100 things about myself.
8. As a little girl, I just knew I was destined to grow up and be a well-known singer. The joke was on me! LOL Don't get me wrong, I can sing, it just doesn't sound good.
9. During my senior year I made the headlines of our school newspaper. In preparation of our "homecoming" it was traditional to have a bonfire. Well anyone knows you can't have a good bonfire without "outhouses". Somehow I was
volunteered
delegated the driver of the truck as
we
they stole the outhouse. Someday I'll share the rest of the story.
10. My mom was a red-head, well actually a beautiful auburn, just like Lonny.
11. I am an Independent Beauty Consultant for Mary Kay Cosmetics.
12. My cousin, Judy, and I both slide our feet out of our socks instead of pulling them off.
13. One of the first times I ever went fishing I caught what seemed like a whole "school" of fish. None of them were much more than 4 inches long. I was so proud of all of them I made my mom take them home. I was thoroughly disappointed when she refused to cook them for supper. So instead I cut the eyeballs out of one. I was only 7 or so. I never really understood why, but I think I was more interested in how they were held in place. You would have thought I'd have been a scientist or something.
14. My first job was working the concession stand at the local theater. I took home $6 a week. I would put $3 worth of gas in the car and that lasted until the next week. Gas was only 32.9 cents a gallon.
15. I was always interested in photography.
16. I have dark brown eyes.
17. Growing up I took ballet, tap, toe, baton, acrobatics and piano lessons.
18. When I was about 11 or 12 I taught myself how to type on an old Royal typewriter that looked a lot like this one.
I'm really serious!
19. I'm right-handed.
20. I love to laugh.
21. I can't knit or crochet.
22. Accounting was a subject that came very natural to me, but I was never very good at math! Go figure!! I guess it was the algebra, trigonometry, and geometry that threw me! Oh and fractions...I hated fractions!!
23. After I graduated from high school my jobs have all been accounting/payroll. Except for about 2 months I worked at the Admiral factory making freezers.
24. My favorite sports to play are volleyball, ping pong, badminton and foosball. I probably could still play volleyball, but I might not be able to move the next day.
25. I drove a 1970 yellow camaro in high school.
26. I've never broken a bone.
27. I don't like liver.
28. My dad was a carpenter by trade and a farmer.
29. In the late 50's my parents built a house in "Pinhook"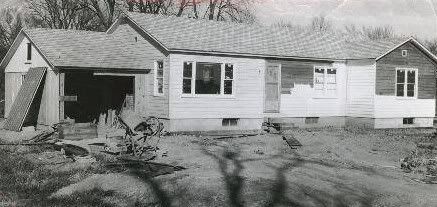 and my mom painted it pink. No kidding! See!!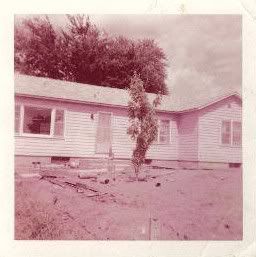 Now mind you this wouldn't be all that strange these days, but in the 50's it was strange enough to get in the local paper. Yep! That's my mom for ya!
30. I can't hardly go outside without my sunglasses on.
31. My uncle played steel guitar for Conway Twitty, before he became famous. (Conway Twitty not my uncle).
32. I love to read, but lack the time.
33. I had one brother, no sisters.
34. I went to work the day after I graduated high school at the age of 17. I quit work for a year when my oldest son was born. I took another year off when my youngest was born. After Jim and I got married I didn't work for nine years.
35. I can barely hear out of my left ear.
36. I've only camped in a tent one time. I prefer the Holiday Inn.
37. Growing up, my grandma always took me on her vacations.
38. My dad drove a taxi in Richmond, CA when he met my mom.
39. I love the South.
40. My husband and family traveled and sang country gospel music for over 10 years.
41. I don't like mosquitos.
42. I made lots of mistakes raising my boys. In spite of it they are good, responsible, caring, hard-working men.
43. I've always enjoyed cleaning house and doing laundry.
44. I've found this post to be very hard. I rarely talk about myself.
45. I have tendencies of being a perfectionist. Not as much as I use to, but it's still there. It's kind of mixed in their with some OCD's too.
46. My grandma was a nurse in a doctor's office until she retired.
47. After my parents married, my dad worked in the coal mines for a while.
48. I have a fear of heights. Not elevators and such. Nor stairs if I have a rail to hold on to. If a high-rise building has windows to the floor, I can't go near the windows for the fear.
49. I remember when The Beatles first came to America.
50. I'm only half-way finished?!?!?!?!?
51. My mom couldn't boil water when she got married. Really...my dad had to teach her. She became a great cook though.
52. I'm glad I grew up in the late 50's, early 60's.
53. In grade school I jammed my index finger playing tether ball on the day of my piano recital. My mom says I was mad because the doctor wouldn't put anything on it and I had to go through with my recital. Have you ever played the piano while having to hold your index finger straight?
54. Everytime we hang up the phone or have to leave each other, my husband and I
say "I love you". Whether it's twice a day or 15!
55. My hands look just like my grandma's.
56. My mom was my best friend.
57. Christmas is my favorite holiday.
58. Daffodils are my favorite flower.
59. I miss my grandkids.
60. I prefer love stories.
61. I do not like science fiction.
62. I'm getting close to the end. You've made it this far!
63. I love music.
64. About a year ago I had to throw away my General Electric hand mixer (avocado) that I received as a wedding present in 1972. It still worked, but it started smoking. It was a sad time for my kids. We had a moment of silence in honor.
65. I've only had a manicure/pedicure one time.
66. I have never liked coffee.
67. I don't know how I survived before computers and internet.
68. I love to have my head massaged.
69. When my parents first married they lived in a tiny camper over a train trussel. Yeah, that was fun when the train came through! Hearing them tell stories I always pictured something like this.
70. My dad was from Illinois, my mom Arkansas and they met in California.
71. I'm the only living person from my immediate family.
72. I love the smell of sauteed onions.
73. Will you still respect me when you finish this list?
74. I remember the first time Elvis appeared on the Ed Sullivan Show.
75. I love chocolate!!
76. I'm good at spelling.
77. I really love my husband!
78. A friend of my mom's daughter was named after me.
79. I don't like to be called Shirley.
80. Cheryl is of French origin and means "Beloved".
81. Thank goodness for moms! My dad wanted to name me Thelma Irene!
82. I prefer spring and fall to summer and winter.
83. I never liked to sew.
84. My freshman year in high school my dad took my friend and me to the drive-in to see Butch Cassidy and the Sundance Kid.
85. I would rather give than receive.
86. I'm bashful, although others will argue that point. But really I am.
87. I love to see sunrises and sunsets.
88. I was on the cover of our high school yearbook.
89. I would never eat chinese food, collard greens, turnip greens, or mustard greens until 13-1/2 years ago. Now I love them.
90. I can't believe I'm only 10 away!!!
91. My mom's name was Emma Juliah.
92. I would love to go to Tuscany.
93. I've lived in four different states. Illinois, Arkansas, California & Iowa.
94. My grandma' name was Etta Bell. She was 90 years-old when she died.
95. I inherited the love of antiques from my grandma.
96. I love HGTV and watching decorating shows.
97. Anne of Green Gables was my moms favorite book. I never read the book, but saw the movie for the first time about 2 years ago. It was wonderful.
98. I don't like to shop.
99. Did I mention I love my husband and family very much.
100. Last but MOST important, I love the Lord and I'm so thankful for His grace and mercy.