I hadn't unpacked my Christmas decorations until yesterday, so I wasn't able to participate in
Morning Glory'
Christmas Tree Treasures
until now.
This is how it works:
What memories are unpacked each year as you decorate your family tree?
You are invited to post as many photos as you want, of the special ornaments that you hang on your tree each year. Share with us why they are special to you. Maybe they are family heirlooms, things your children made you or you had as a child, or special theme collections -- whatever it is that you put on your tree that brings you pleasure each year as you decorate it. Here are a few of the ornaments that have special meaning to me.
We traveled in Florida frequently as we sang gospel music and met some wonderful friends along the way. This angel was given to me by one of those dear friends.
I'm sure Barb has made these at some time!
I really don't remember where I got this snowman, but I have had him for a very long time and he is just a favorite of mine. I always try to display him next to one of the lights so that the glitter will sparkle.
The picture really doesn't do him justice. I guess with all of the lights on things want to glare.
This is actually a centerpiece that my very best girlfriend gave me years ago, so it is so special to me. I believe it was the first year she was selling real estate and this was the gift that she was giving her clients.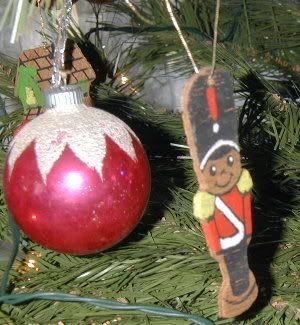 The boys and I made these wooden ornaments one year because we didn't really have the money to purchase any other kind. It was a good memory-maker for us.
Between 1989-91 I collected teddy bears of all kinds and sizes. So the boys bought me this teddy bear for the tree.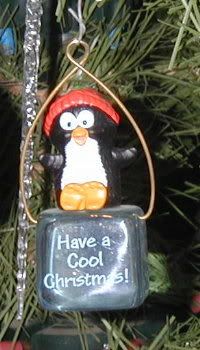 This was the first ornament that the boys actually walked to town by themselves (we only lived a few blocks from "the square" and it was safer then) and bought this all on their own. Although it usually aggravates me somewhat because the cube is so heavy it wants to pull the tree limb down. But they were sooo proud and I cherish it just the same.
This is another ornament the boys bought me one year. Notice the chocolate on the end of the spoon.
This is something I just prop in the tree. It was a name tag that was on one of my dad's presents years and years ago. I'm not sure why my mother kept it for so long, but now that he is gone I cherish it even more.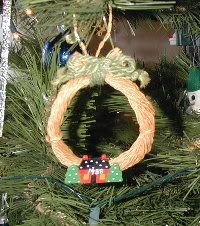 This is a wreath with a house on the bottom of it. In August of 1988 I had purchased our first home since my divorce in 1982. This was a big step for me and my boys and I loved the house and that is the one they remember the most about growing up.
My grandma painted this ornament many years ago and gave it to my mom. Now that they are both gone it is even more special to me.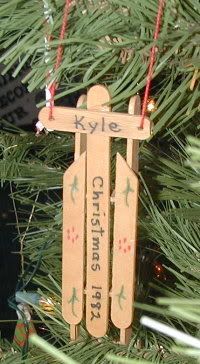 Kyle, my youngest, gave this to me when he was only 3. It was something he bought with play money at his preschool and the teacher put his name on it. It has always been one of my favorites.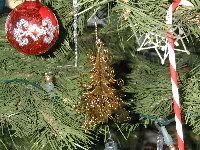 This collection of gold 4-sided ornaments belonged to my grandmother.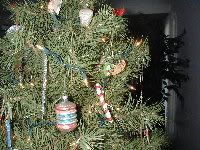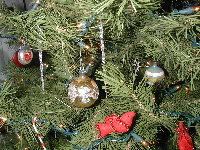 These are a few of the older christmas balls I have that belonged to my mother. There is the blue, red and silver ribbed ornament with a smaller silver ornament above it that looks like a berry. Then the gold ball with silver glitter on it, as well as the little silver one on the left with a red star in the middle.
And there are several more that I didn't use this year on the 6' tree. But every year I enjoy seeing all of these ornaments as those memories come back to me. One day my children will inherit them and I hope they enjoy them and have memories of their own to share with their children.