At the time
BooMama
did her Bloggity Tour of Homes I had just discovered "Blogger" and the whole bloggy thing. I was still trying to setup my blog and to try uploading pictures just wasn't something I wanted to tackle then. Although I have been working on this for weeks, through no cooperation from "blogger", I finally went to "Photobucket" and got my pictures to upload. So
Bev
, while I know you have more interesting things (
Landon
, for one) (I think he may be a Pittsburgh Steelers fan, just guessing) to look at now, here is a tour of our home.
My husband and I built our home in 1999 on the family farm (it no longer has cattle or crops). We painted everything off-white then (except the kitchen, it's a pale yellow) and only recently have started adding color and going back to add detail to the rooms. So pardon us if you see something that doesn't appear completed.
Oh how the Lord has blessed us with this house!! I never in my wildest dreams thought I would live in a house this large. God's hand was truly in this.
It's not real fancy, but we "live" in it and everyone' welcome!
When you walk into our front door you see the stairs and just to the left is the foyer, which has some of my favorite things in it.
The chair on the left has several quilts that belonged to my grandmother. The desk was my great-grandmothers. The buffet was given to me by some dear friends. The buckboard was my mothers, given to her by my best friend and she used it as a coffee table and to hold her "decorating magazines" (I guess I inherited that interest from her).
As you go through that door you will be in my husband's office. We recently painted this room.
This is my kitchen. (Excuse the different format, Photobucket)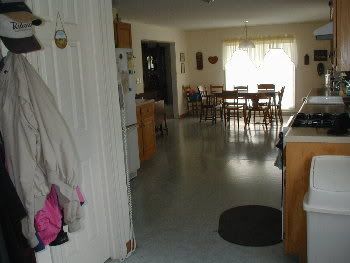 The door you see here takes you to one of my favorite parts of the house. My pantry. I told my husband I would rather have fewer cabinets and a larger pantry cause I was tired of standing on my head to get pots and pans out of the lower cabinets. I think it turned out being about an 8x8 room. Oh....but with the pantry you can just walk up to the mixer, or whatever, reach out, pick it up, and off you go. As you can tell I have utilized every inch of it. We even have a small size freezer in there too.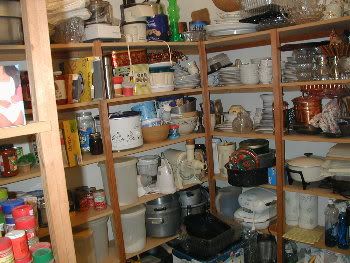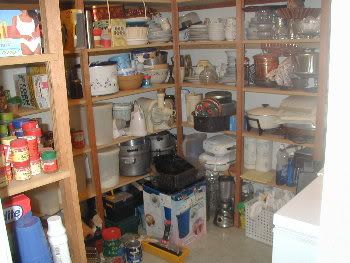 Back to the kitchen.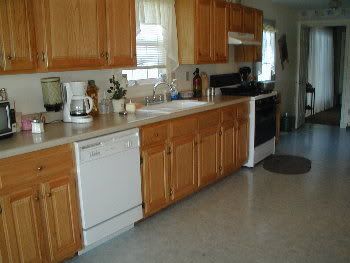 We did end up having more cabinets than I wanted so that the room would be "balanced" and not end up with a bare wall. Hey, that's ok too, because they are pretty much full.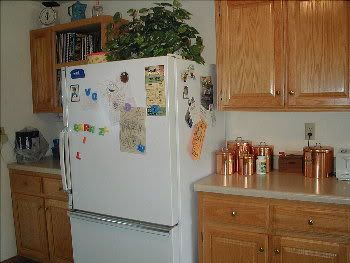 This is the dining area of the kitchen. My mother had had this hutch since at least 1954. There is a drop-leaf table that matches it. I think you can barely see it in the first "kitchen" picture.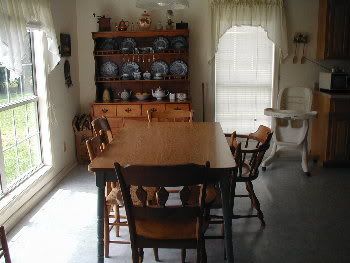 In the first kitchen picture, up by the table, there is an archway. It leads to the formal dining room, which you can also see from the living room. Basically you can go in a circle throughout the downstairs.
To the left of the front door is our living room. As you can see this is all one big room with the formal dining room being at the far end.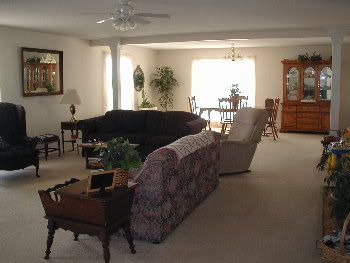 By the front door you can see a set of french doors, that will lead you to my office and/or Mary Kay area.
So this is where I blog most of the time (or laptop).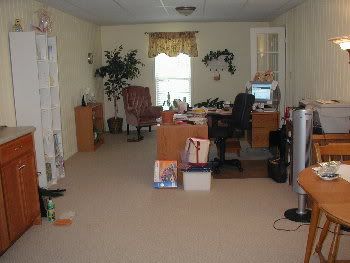 This is another favorite area of mine. These are mostly pictures of my mom's side of the family. They include my mom, grandma, great-grandma and grandpa, aunts, me, and my brother, etc. It also has an old framed family tree, and my mother and aunts Cradle Roll Certificate from where they were baptized as babies. I want to make the turn down the hall and use that wall for my dad's side.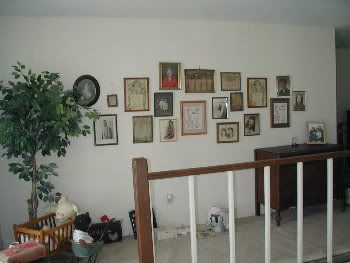 Our home sits about 600' off of the road. So I decided to show you the scenery as if you were looking towards the road from our house. If you were on our balcony looking slightly to the left you will see the driveway and this row of pear trees we planted.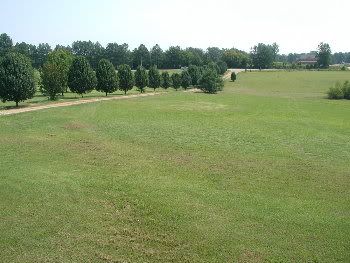 If you turn slightly to the right you will see our pond. And yes, we mow all of this and more.
Now we know that if the earthly tent we live in is destroyed, we have a building from God, an eternal house in heaven, not built by human hands. 2 Corinthians 5:1